As its name clearly indicates, this is a small knot.
Its great advantage is its use with heavy fabrics and/or with close-cut collars. Do not use it on collars that are long or wide-spaced.
Easy to do, even with its 180° twist, the Small Knot is by far the easiest of all the knots.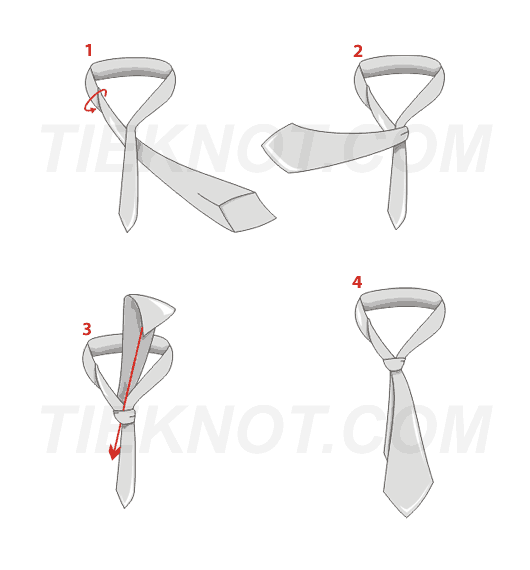 Preparation: Put the tie in place around your neck, then twist the wide end 180° (see illustration above). To avoid doing the twistyou can simply place your tie around your neck back to front. The wide end needs to be longer than the narrow end.
Tying the Small Knot in 4 steps:
Step 1: Under the collar, lay the wide end over the narrow end.
Step 2: Now run the wide end overthe layover.
Step 3: Hold the layover with one hand and run the wide end behind the layover and up. Smooth out the wide end and slide it down through the loop of the layover.
Step 4: Adjust the knot, sliding it up to your collar.
For a smart finish the knot must cover the top button of your shirt and the narrow end must be completely hidden.

Video of the Small Knot
The Small Knot in a few words:
Names: Small Knot, Oriental Knot
Difficulty: **
Popularity: **
Morphology: tall men, wide chests, wide necks.
Types of collar: classic, close fitting.
Types of tie: standard or thick fabrics.